V.I.P. Fencing - Glen Waverley is locally owned & operated by Mark Nagyivan who is an experienced operator who takes pride in his work.
Mark has an extensive background in Fencing and Home Maintenance and is also very familiar with the world of Harley Davidson Motorcycles via his years in spare parts at Harley Heaven. Mark has been with V.I.P. F&HM for 6 plus years now and still loves servicing his customers.
OUR SERVICES TO YOU
Mark can build a fence for you to suit your needs and/or your properties requirements. Whether you need practical fencing or feature fencing and all types and styles of gates including auto gates, he is here to help. Providing the very best customer service and quality workmanship is of paramount importance to V.I.P. Fencing - Glen Waverley.
You can be rest assured because we are:
Police and Credit checked
Workmanship Guarantee
Fully insured
V.I.P. F&HM Training Accredited
And have a customer satisfaction guarantee!
Please feel free to look at my portfolio below & also our Facebook page to see some of the work that V.I.P. Fencing - Glen Waverley has done for clients in the past and it may give you some ideas of the many styles of fencing and gates you can have on your property.
Check out some of my latest builds below:
Need more Inspo? Then check out our V.I.P. Fencing and Home Maintenance You Tube Page.
#fencingcontractorglenwaverley #vipfencing #vipfandhm #QualityNailed #VIPYourInSafeHands🤲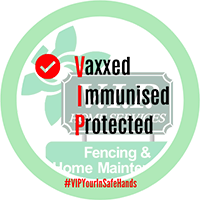 Oh, that's so good! Thank you, it's beautiful!! All I've ever wanted!! Thank you Mark!!

- Amy (Dandenong North Fencing)
Epic Front Fence and Gates! Great job Mark. The family is in awe! Particularly appreciated your professionalism regarding timelines, communication and workmanship. The delays were handled well and the Polvin product looks magnificent to say the least. 5 Stars Product review: https://www.productreview.com.au/reviews/2d1510c9-2e20-57b2-b25d-686f14ca6b5c

- Shaun & Denise (Pakenham Fencing)
Hi Mark, I just want to say a huge thank you for our amazing fence. We get so many comments about how lovely it looks. You were a pleasure to work with. I would not hesitate yo recommend you.

- Ruth and Paul (Pakenham Fencing)
Mark was swift, professional, friendly, affordable!

- JeremyV (Narre Warren Fencing)
Mark Nagyivan replaced my side fence. He did a fantastic job on it & i couldn't be happier. Nothing was too much for him & he went over & above to level the dirt. He is very polite & extremely approachable. I will be using Mark again when the rest of my fences need replacing. Thankyou Mark.

- WendyC (Oakleigh Fencing)
Glen Waverley
Wheelers Hill
Pakenham
Narre Warren
Warragul
Surrounding Suburbs
Please feel free to contact us to see how we can help you.