V.I.P. Fencing – Malvern East is locally owned & operated by Angelo Sercia.
Well over a 3 decades ago - Angelo started out his career as qualified hairdresser and ran his own salons for many years, 16 odd years ago Angelo changed his career to working in the building industry working on commercial building sites prior to joining V.I.P. Fencing team in Melbourne! Angelo brings to you his customer(s), a wealth of experience.
OUR SERVICES TO YOU
Angelo can build a fence for you to suit your needs and/or your properties requirements. Whether you need practical fencing or feature fencing and gates, he is here to help. Providing the very best customer service and quality workmanship is of paramount importance to V.I.P. Fencing – Malvern East.
You can rest assured because we are and offer:
Police and Credit checked
Workmanship Guarantee
Fully insured
MBA (Master Builder Association Members)
V.I.P. F&HM Training Accredited
And have a customer satisfaction guarantee!
Visit my portfolio below and our Facebook page to see some of the work that V.I.P. Fencing - Malvern has done for our valued customers in the past and to get some ideas of how we can help you today!
Check out some useful links below:
Need more Inspo? Then check out our V.I.P. Fencing and Home Maintenance You Tube Page.
#fencingcontractormalverneast #vipfencing #vipfandhm #QualityNailed #VIPYourInSafeHands🤲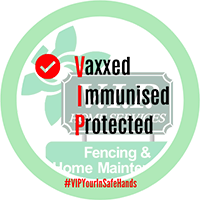 Angelo recently built in excess of 100m of timber fencing on a very difficult site for my Mother -in - law. The job was completed on time and without fuss. His left the site cleaner than when he arrived. The finished fence exceeded all our expectations and looks amazing. His price was extremely competitive. We have no issue recommending Angelo to anyone who wants a quality fence. If I could give him 6 stars I would.

- Bill & Anne W (Malvern East Fencing)
Ange was great - will use him every time.

- Simon J (Toorak Fencing)
Dear Ange, I just wanted to say thanks and what a pleasure it was to have you build my back fence. At the time of calling you I was in a desperate situation of needing the fence built urgently, you were not only able to meet my needs with the timeframe, but your advise on what would be best with regard to how the fence should be constructed, and the assurance re the quality of work and materials overall represents 100% satisfaction on my part. Once again thanks for everything, the fence looks great, and I will not hesitate to recommend you to anyone who needs a fence. Cheers.

- Warren M (Croydon Fencing)
Angelo did our fence yesterday. very professional. Highly recommended. Both my neighbour and ourselves are very happy.

- Nancy (Mount Waverley Fencing)
To Whom it may concern, We are absolutely thrilled to have had the pleasure of working with Angelo (Ange). We were so lucky Ange was able to fit our job in due to a cancellation. Ange went above and beyond to ensure that both ourselves and our neighbours were happy throughout the whole process. He worked back during the week and was there on the weekend. The fence was completed on-time even though there was some lost time initially. Ange you are a credit to yourself and the VIP brand. I will certainly be recommending Ange and VIP to all my friends and family. All the best mate and Merry Christmas

- Cam and Meg (Vermont Fencing)
Malvern East
Malvern
Murrumbeena
Chadstone
Ashwood
Surrounding Suburbs
Please feel free to contact us for an obligation free quotation.