Product Review Number 1 Fencing Company Australia Award 2023
V.I.P. Fencing operates Melbourne wide.
With V.I.P. Fencing, our team is able to build fences tailored to your needs and/or the needs of your property. Whether you need practical fencing or feature fencing, sliding or swinging gates (manual or motorised), we are here to help. VIP Fencing's commitment to delivering superb customer service and high-quality workmanship is unbeatable!
You can be rest assured because we are and offer:
Police and Credit checked
Workmanship Guarantee
Fully insured
V.I.P. F&HM Training Accredited
Many years of Fencing Experience
Have a customer satisfaction guarantee!
See some examples of what we have done for our VIP Fencing clients in the past by viewing our portfolio below and liking us on Facebook to get an idea of what we can do for you today!
Tap here to view recent Fencing Customer Case Studies: Case Studies
Knotwood Telescopic Driveway Gate
Our Reno Blog provides you with real stories about real people's experiences - from big to small renovations!
Tap here to go to: Reno Blog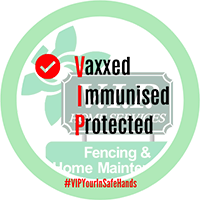 Aluminum gates repair. Had a problem with gates slightly parting from brick wall, 12mths after installation. I phoned VIP and gates were repaired within a week ,without any arguments .did a great job. Cant recommend them enough.

- Eccles (Melbourne Fencing)
Fantastic Job. Thanks VIP for the excellent job you did on my fence!

- Josh (Mornington Fencing)
Great Service Hey Warren, really appreciate all your work at mum and dads place the fence looks great!

- CSands (Mount Eliza Fencing)
5-Stars - Guys did a great job thanks Warren for all your help.

- CallumS (Mount Eliza Fencing)
Excellent decking job! They did a thoroughly professional job while doing the decking for my house entrance. Very friendly bunch of guys. Would highly recommend them.

- Vinodh R (Melbourne Fencing)
All of Melbourne - Fencing and Gates
Berwick to Warragul - Fencing and Gates