V.I.P. Fencing operates Melbourne wide.
Our V.I.P. Fencing team can build a fence for you to suit your needs and/or your properties requirements. Whether you need practical fencing or feature fencing, sliding or swinging gates (manual or motorised), we are here to help. Providing the very best customer service and quality workmanship is of paramount importance to V.I.P. Fencing!
You can be rest assured because we are and offer:
Police and Credit checked
Workmanship Guarantee
Fully insured
V.I.P. F&HM Training Accredited
Many years of Fencing Experience
Have a customer satisfaction guarantee!
Please feel free to check out our portfolio below & also our Facebook page to see some of the work that V.I.P. Fencing & Home Maintenance - Melbourne has done for our V.I.P. clients in the past and to get some ideas of how we can help you today!
Tap here to view recent Fencing Customer Case Studies: Case Studies
Also view our Maintenance Gallery to see some of the work that we have project managed here in Melbourne and or worked on collectively. Go to our Reno Blog to read some real stories on real peoples experiences - large to small renovations!
Tap here to go to: Reno Blog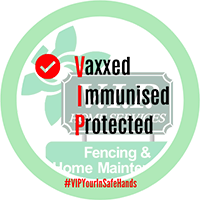 VIP home services are professional and did a great job. I would highly recommend them.

- Paul B (Mount Eliza Fencing)
2nd Project with these guys and again and again brilliant workmanship! Highly recommend them. Looking forward to the next project.

- Joanna K (Frankston South Fencing)
Exceptional!... is the word I would use to describe this team, (Warren & Mark) their service and their workmanship. The job they tackled was extremely complex and I couldn't be happier with the result. Highly recommend them!

- Joanne K (Frankston South Fencing)
VIP Fencing is a very customer-oriented professional with a strong focus on quality. As part of a larger residential landscaping project, they built for us 2 boundary fences, a front picket fence & gate, 2 side fences with gates, and a retaining wall for our front garden. VIP Fencingworked in well with our landscapers, took care to minimise disruption to our property, and also displayed a lot of patience when interacting with our at times difficult neighbours. They also took plenty of time to understand our needs and, as we were trying to work out what we wanted, provided useful suggestions and advice regarding different materials and styles.

- JohnD (Surrey Hills Fencing)
I am very delighted to recommend V.I.P. Home services - Fencing, who replaced the old fence to acoustic wall for us. All my requirements were carefully considered, and all the issues are solved perfectly. Hassle-free! I would not hesitate to hire them again and recommend to all my friends if any fence work happened. Thanks, VIP.

- WeiY (Toorak Fencing)
All of Melbourne - Fencing and Gates