V.I.P. Fencing & Home Maintenance - Templestowe is locally owned & operated by Terry Smith who takes enormous pride in his work and loves what he does!
With over 25-year builders background, Terry has many years' experience and is a very highly skilled tradesman.
OUR SERVICES TO YOU
Terry can not only build a fence for you to suit your needs and/or your properties requirements he also build decks and can offer high quality handy man skills to assist you around the home. Whether you need practical fencing or feature fencing, gates and a variety of home maintenance property requirements, he is here to help. Providing the very best customer service and quality workmanship is of paramount importance to V.I.P. Fencing and Home Maintenance - Templestowe
You can rest assured because we are and offer:
Police and Credit checked
Workmanship Guarantee
Fully insured
V.I.P. F&HM Training Accredited
And have a customer satisfaction guarantee!
Please feel free to look at my portfolio below & also our Facebook page to see some of the work that V.I.P. Fencing & Home Maintenance has done for clients in the past.
You can also check out our catalogues; for Fencing Tap Here or for Home Maintenance Tap Here.
#fencingcontractortemplestowe #vipfencing #vipfandhm #QualityNailed #VIPYourInSafeHands🤲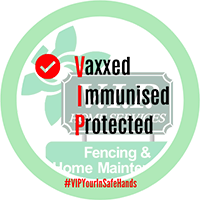 Terry did an amazing job on the fence. Great guy too Highly recommended

- Bern (Kew Fencing)
Well done Terry on building /completing new fence - great job done obviously by a very experienced and knowledgeable tradesman.

- Geoff (Vermont Fencing)
Hi Terry, Many thanks for the work that you did for us. The improvements to the entrance of the veranda have made it a lot safer with a better appearance. Your ability to replicate the turned posts was an eye opener. The facing and lining of the fireplace has given a new perspective to the lounge room, It was refreshing to see a "tradesman" at work. Also, we had no problems in you having full access to the house when we were away shopping. We would not hesitate in contacting you if further work is required or to recommend you to those requiring home maintenance.

- Mel (Kew East Fencing)
Terry did an amazing job on the Fence!

- Julie T (Box Hill North Fencing)
Terry did a good job!

- David (Burwood Fencing)
Templestowe
Doncaster
Doncaster East
Bulleen
Surrounding Suburbs
Please feel free to contact us to see how we can help you today.