V.I.P. Fencing – Williamstown is locally owned & operated by Quazi Sadakat who takes immense pride in what he does.
Quazi has a background in logistics and has recently taken the leap into a new business, having completed his comprehensive business and on-site training under the V.I.P. F&HM system whereby overall quality consciousness is paramount, from communications through to quality workmanship culminating in total customer satisfaction!
OUR SERVICES TO YOU
Quazi can build a fence for you to suit your needs and/or your properties requirements. Currently Quazi's focus is on a variety of paling, basic picket and colorbond fences.
Providing the very best customer service and quality workmanship is of paramount importance to Quazi – V.I.P. Fencing - Williamstown.
You can rest assured because we are and offer:
· Police and Credit checked
· Workmanship & customer satisfaction guarantee
· Fully insured
· V.I.P. F&HM Comprehensive Training Accredited
Please feel free to look at the portfolio, testimonials & also Facebook page to see some of the work that V.I.P. Fencing – Williamstown has built for his clients.
Do your research, by tapping on the below informative links:
#fencingcontractorwilliamstown #vipfencing #vipfandhm #QualityNailed #VIPYourInSafeHands🤲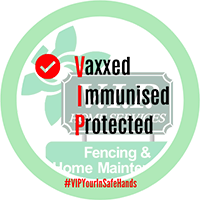 I have used Quazi twice and have been very satisfied both times - a Colourbond fence in June 2020 and timber paling fence in Jan 2021. Quazi is a great fence builder. He is friendly and courteous. But one thing that really stood out for me and what also pleased me a lot was Quazi was very accommodating with any questions or requests I had. Quazi made sure I was happy with the work both times. Both fences look great. I've recommended Quazi's services to my neighbours.

- David (Hoppers Crossing Fencing)
A massive shoutout to Quazi who was a legend in fitting our fencing job ASAP. He's done an outstanding job. Great communication and very responsive to our needs. Highly recommend this service!

- Chelsea (Diggers Rest Fencing)
Excellent trades people - demonstrated a high attention to detail; efficient and friendly.

- Liz (Williamstown Fencing)
We were recommended to Quazi through somebody and it was the best recommendation for fencing that we could find! He completed our timber fence with such care and commitment to quality, and we are completely satisfied with the outcome. Would highly recommend VIP Home Services for fencing!!

- Nicole S (Williamstown Fencing)
Quazi provided a successful quote to replace an existing fence in colorbond. He was totally professional from quote to completion and engaged both my neighbour and myself in the build and was able to identify and callout a stormwater issue. Workmanship was excellent and I have no hesitation in recommending him to other possible clients.

- Hugh (Hoopers Crossing Fencing)
Williamstown
Altona, West, North
Newport
Spotswood
Tarneit
Surrounding Suburbs