SORRY, I will not be available until early May!
V.I.P. Fencing & Home Maintenance - Ivanhoe, is locally owned and operated by Sid Singh, who is a highly talented with great skills operator!
Coming from a business owner background and management of a gym, Sid has excelled in his training and has shown great competence on the tools: Sid joins V.I.P. Fencing to follow his passion for working on the tool's so much so, he is currently studying for his Cert 4 in Building and Construction!
OUR SERVICES TO YOU
We can build a fence for you to suit your needs and/or your properties requirements. Whether you need standard fencing or feature fencing, sliding or swinging gates (manual or motorised), we are here to help. Get in contact with us today for your fence or gate requirements, we are thrilled that Sid believes in exceptional communication and has a total commitment to quality!
You can be rest assured because we are and offer:
Police and Credit Checked, For Your Security
Workmanship Guarantee, For your Peace of Mind
Fully insured
MBA (Master Builder Association Members)
And Offer a Customer Satisfaction Guarantee!
Please feel free to look at my portfolio below & also my Facebook page to see some of the work that V.I.P. Fencing - Ivanhoe has done for clients in the past, and it may also help you with some inspirational ideas!
For more inspo, you can check our Fencing Catalogue by Tapping Here
Check out my latest YouTube Clip of some of my recent "Feature Fencing & Gate" builds: Click Here
#fencingcontractorivanhoe #vipfencing #vipfandhm #QualityNailed #VIPYourInSafeHands🤲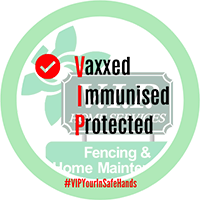 Sid delivered on all promised actions and the work was completed to a very professional standard.

- Leo P (Rosanna Fencing)
I recommend Sid for his Professional and excellent service!

- Steve (Diamond Creek Fencing)
Hi Sid, We love the fence!!! Thanks so much to both of you for the great work!

- AlixM (Bellfield Fencing)
Sid, thank you and your colleagues great work on our fence. Both us and the neighbours are very happy with the end results as well as the professional, calm and methodical approach to the work.

- Michael (Moonee Ponds Fencing)
Sid and his team were a real pleasure to deal with. Friendly, professional and did an amazing job on my fence. Communication was speedy, Sid would get back to me quickly to any enquiries or questions I had. Would highly recommend!

- CraigC (Ivanhoe Fencing)
SORRY, I will not be available until early May!
Ivanhoe
Bellfield
Thornbury
Epping
And surrounding suburbs!
Contact us today if you require a fencing, gates or retaining wall quotations.