V.I.P. Fencing - Pascoe Vale South is locally owned & operated by Matt Chapman, who takes immense pride in his builds and master pieces.
"After a highly successful career as a "trouble shooter and problem solver" in the world of IT, Matt joins V.I.P. Fencing to follow his passion of property improvements. Matt believes in superior communication and a commitment to quality!"
OUR SERVICES TO YOU
We can build a fence for you to suit your needs and/or your properties requirements. Aside from practical fencing, we also offer feature fencing, sliding gates (manual or motorized), and swing gates (manual or motorized). Providing the very best customer service and quality workmanship is of paramount importance to V.I.P. Fencing - Pascoe Vale South.
You can be rest assured because we are and offer:
Police and Credit checked
Workmanship Guarantee
Fully insured
And have a customer satisfaction guarantee!
Please take a moment to check out my portfolio below & our Facebook page to see the type of work V.I.P. Fencing - Pascoe Vale South has built for clients in the past, so you can get an idea of what we can do for you today!
To view our various works, check out our catalogue by Tapping Here.
#fencingcontractorpascoevalesouth #vipfencing #vipfandhm #QualityNailed #VIPYourInSafeHands🤲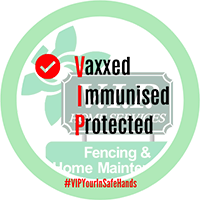 Matt and his partner were fantastic😊 great work, extremely courteous and provided my pup with loads of love and attention even when he was getting in the way 😄 now he can run freely in the garden and we have privacy!..

- Victoria (Strathmore Fencing)
Matt from V.I.P. Fencing and Home Maintenance provided us with a terrific overall customer experience, from the initial contact, the clear and professional quote to the actual build. The service was seamless, others could well learn a thing or two from them!

- Robert (Altona Fencing)
Worthy job!! Thanks for another job well done VIP Fencing!!!! Achieved success with absolutely no problems given the challenging slope of our land. They went above and beyond. Matt Chapman...an absolute champion star!!

- Pete (Pascoe Vale Sth Fencing)
AN ABSOLUTE MASTERPIECE! If you are looking for professionalism and precision relating to the trade of fencing, then go no further than VIP Fencing. I was impressed by their attention to detail and accuracy. It was clearly demonstrated that both the VIP Fencing company and its members not only regard their services as a trade but ultimately a craft. Extending gratitude to Matt Chapman. Not only a competent and skilled individual; but one who exhibited integrity. Thank you, VIP Fencing, for a job well executed from start to finish!

- AnnaliseM (Pascoe Vale Sth Fencing)
Hello Matt, Hope this email finds you well. We wanted to say Thank You for the fence you installed at our property last week. Looking at it for the very first time, we honestly felt that it was more a work of art than a simple fence. We never doubted that it would be installed correctly, but it definitely exceed our expectations and has added a beautiful and secure finish to our new home...both from the inside and out. The detail and workmanship you have put in are very much evident and your attention to detail and listening to our concerns and requirements are greatly appreciated.....cont

- Philip & Patricia M (Pascoe Vale Sth Fencing)
Pascoe Vale South
Pascoe Vale
Strathmore
Moonee Ponds
Surrounding Suburbs
Please feel free to conact us to see how we can help you.