V.I.P. Fencing - Patterson Lakes is locally owned & operated by Tony who is an experienced operator who takes pride in his work.
Tony has a background in Finance in the Mortgage Broking Industry and was a Former Real Estate Manager, having a love of property in all forms Tony has chosen to come over to join our team as a franchise owner in Fencing, having completed his 8 week on-site training and skilling up along the way with more on-site learning/training with other highly experienced team members, V.I.P. Fencing - Patterson Lakes brings to you a wealth of knowledge assisted by a desire to be the best in the business of Fencing and Gates.
OUR SERVICES TO YOU
Tony can build a fence for you to suit your needs and/or your properties requirements. Whether you need practical fencing or feature fencing and all types and styles of gates including auto gates, he is here to help. Providing the very best customer service and quality workmanship is of paramount importance to V.I.P. Fencing - Patterson Lakes.
You can be rest assured because we are:
Police and Credit checked
Workmanship Guarantee
Fully insured
V.I.P. F&HM Training Accredited
And have a customer satisfaction guarantee!
Please feel free to look at my portfolio below & also our Facebook page to see some of the work that V.I.P. Fencing - Patterson has completed.
Check out some useful links below:
Need more Inspo? Then check out our V.I.P. Fencing and Home Maintenance You Tube Page.
#fencingcontractorpattersonlakes #vipfencing #vipfandhm #QualityNailed #VIPYourInSafeHands🤲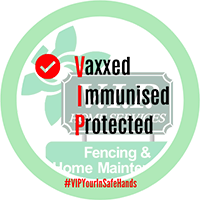 Great fence, installation was handled well with good communication! We have a great fence, exactly as we needed - Tony was easy to work with and completed the job in a timely manner with clear communication. We've already used him again on a different neighbouring fence!

- Rebecca (Patterson Lakes Fencing)
Tony, thank you very much for the great job on the Color Bond fence and your pleasant and professional manner. We are stoked

- Kevin and Karen K (Mornington Fencing)
Tony from VIP Fencing is an absolute professional. He and his team did an amazing job on a difficult site with enthusiasm and good humour. We are absolutely thrilled with the quality of workmanship, attention to detail, and the end product. Tony is an absolute pleasure to deal with and we cannot recommend him highly enough.

- Kate McQ (Mount Eliza Fencing)
Thanks Tony and team for recently installing our new colorbond fence and gate. Tony made everything really easy even through lockdowns with great communication, prompt service and a fantastic result.

- CarolineC (Patterson Lakes Fencing)
Tony is so easy to communicate with, great workmanship, efficient and great job. Would highly recommend.

- BeckD (Chelsea Heights Fencing)
Patterson Lakes
Mordialloc
Bon Beach
Aspendale
Aspendale Gardens